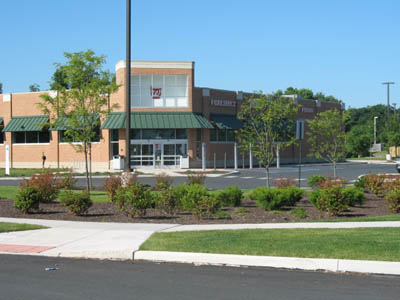 Our packages for commercial maintenance include full lawncare and landscaping services.
The condition of your company's outdoor space says a lot about the way you do business inside of its doors. An overgrown lawn, bare patches on the lawn, or shrubs that have never been trimmed send the wrong message to current and prospective customers in Monroe County, Pennsylvania. Primrose Landscaping offers commercial maintenance packages to area business owners so the only things you have to focus on are running and growing your business.
Services Offered in Our Commercial Maintenance Packages
Below is a list of some of the most common maintenance services we provide for Monroe County business owners:
Weekly lawn mowing: We cut your grass each week with a mower designed for your grass type and length of grass. We also use edging equipment for those hard-to-reach areas and clean up our grass clippings before leaving.
Maintenance of grounds and shrubs: Our team rakes, mows, or whatever else is necessary in your common areas to make it look professional and inviting. We also offer regular pruning of shrubs to ensure healthy growth.
Seasonal fertilization: We determine the proper application based on soil and grass type, amount of direct sunlight, and several other factors.
Mulching: Adding rock or mulch to your commercial garden or landscaped beds makes it look especially tidy and attractive. We recommend replenishing the supply annually.
Spring and fall clean-up: Primrose Landscaping will help you move from winter to spring and fall to winter with our commercial lawn and yard clean-up programs.
Annual planting of flowers: Flowers are an inexpensive way to add beauty and color to your property. We are available to assist you with selection and planting early each spring.
Lawn aeration: Your lawn could benefit from aeration if it's especially dry and patchy. Since this is an infrequent service, most business owners don't have the right equipment to perform it.
Contact Us to Discuss Your Commercial Property Maintenance Needs
If you would like a different service or are wondering how to bundle your services, just give us a call (570) 223-2580