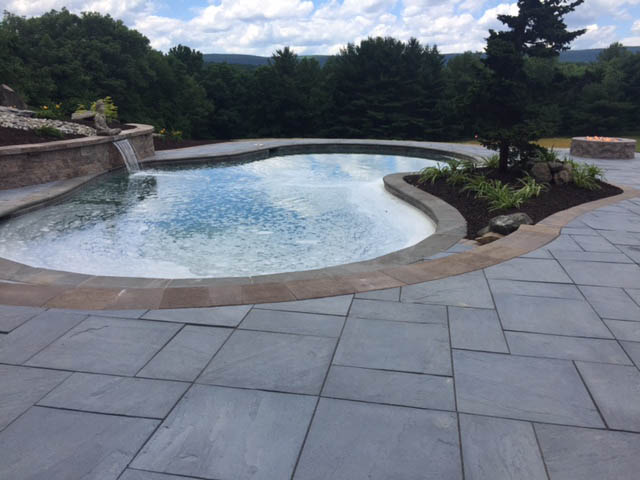 Residential hardscaping services will bring your landscaping to the next level.
If you have invested in a landscape project for your home in Monroe County, Pennsylvania, adding hardscaping features is one way to really make it stand out. Hardscaping entails adding non-plant materials such as pavers, stone, or bricks to a landscaped area. When you work with Primrose Landscaping, you can select from a variety of materials, sizes, shapes, patterns, and colors to create the ideal outdoor scenery. Some of the most popular hardscapes with our customers include:
Driveways: Driveways made from pavers or other hardscape materials stand out from all the other cement driveways on your block.
Fire pits: Perfect for roasting marshmallows or cooking a meal over an open flame, a fire pit adds a whimsical touch to your yard.
Garden borders: Give your garden clear definition and improve the aesthetics of your yard with a stone or brick border.
Patios: What better way to relax at the end of a long day than to sit on the patio with your family and enjoy a warm evening.
Pool side edging: Do you have a pool in your backyard? Pool side edging follows the outline and shape of your pool for a more striking appearance.
Retaining walls: A retaining wall serves a useful purpose in bonding soils together from two different slopes or holding back water. It also acts as a divider for gardens or a stand-alone wall for aesthetic purposes.
Walkways: A walkway in your front or back yard adds character and keeps your grass healthy because it prevents people from walking on it.
Water features: Have you admired a small pond at a local park and wished you could have one for your own yard? Now you can. Primrose Landscaping can place ornamentation in your water feature for an even more magical appearance.
Are you thinking about a hardscape feature you don't see here? That's no problem. Just give us a call and let us know what you have in mind (570) 223-2580. Our in-house design team will work hard to create your vision. Don't settle for an ordinary yard in Monroe County when you can have something truly special.