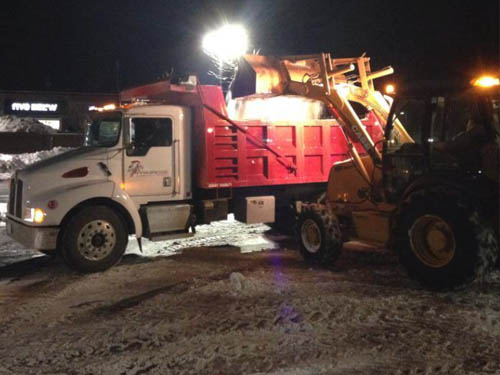 Snow & Ice Management Services For Commercial Property Owners
When a big snowstorm hits Monroe County, Pennsylvania, it can effectively shut down your business. Whether it's day or night, a few inches of snow or a few feet, you can depend on the professional snow removal crew at Primrose Landscaping. We know that even a few minutes of inaccessibility to your business due to weather conditions is a few minutes too long.
Our Commercial Service Plans
At Primrose Landscaping, we know that every commercial client has different needs when it comes to handling what Mother Nature dishes out in the winter. You are free to choose one or several of the services listed below to ensure that your commercial property is always accessible:
Snow plowing: We use professional snow plowing trucks and equipment to clear fresh snow out of the way as quickly as possible.
Ice control: A fresh coating of ice on your parking lot, sidewalks, or near an entrance can present a very dangerous situation. It only takes a second for someone to slip and become seriously injured. Worse, they could file a personal injury lawsuit against you due to premises liability.
Snow hauling: We remove the snow from your property rather than leave it in large piles.
Sidewalk shoveling: Even a light dusting of snow can make your sidewalks impassible. We're prepared to clear them for you on short notice.
When you hire Primrose Landscaping, you will have peace of mind knowing that your property will be maintained to the highest standards and will remove you from liabilities.
Create Your Winter Commercial Service Plan Today
Primrose Landscaping offers snow and ice management packages to best meet the needs of our customers. This includes a per-inch charge or a fixed price for the entire season. Once that it's place, snow and ice removal are two things you can cross off your to-do list.