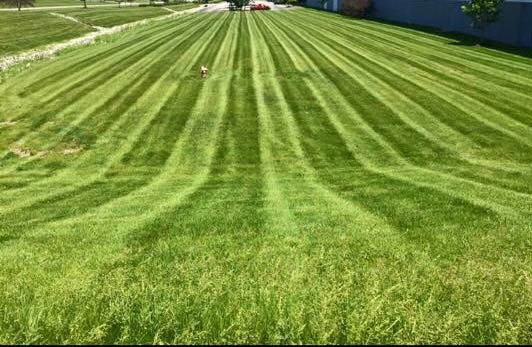 Get thicker, greener and healthier grass with our 5-step lawn fertilization program.
When it comes to having a great-looking lawn, mowing it regularly isn't enough. Your grass also requires consistent nourishment, which includes sunlight, water, and fertilizer. If it gets enough of these things, you will be rewarded with lush turf that displays a dark green color until the first snow arrives in Monroe County, Pennsylvania.
Many homeowners are unclear on how to evaluate several factors to make sure they purchase the right type of fertilizer. Applying it correctly can be tricky as well. It's good to know that you can depend on the expertise of the lawn care team at Primrose Landscaping to select and apply the right type of fertilizer. The type of grass and soil at your home are two of the most important factors we consider. This determines how much nitrogen, potassium, and phosphorus the fertilizer needs for maximum nutritional benefit.
Our Home Fertilization Schedule
The turf fertilization program at Primrose Landscaping includes five separate applications of liquid fertilizer. We use liquid fertilizer because it produces thicker and healthier grass in addition to providing excellent control of weeds. Our schedule is as follows:
April 1 to April 15: We apply pre-emergent fertilizer and crabgrass control
May 1 to June 1: Time for fertilizer containing post-emergent weed control
June 1 to July 1: Your third application includes insecticide and grub control
August 1 to September 1: We apply fertilizer with post-emergent properties
Before first frost of the season: Your lawn benefits from a slow release granular fertilizer and winterizer
We also offer fertilization services using organic materials.
Trust your lawn to the fertilization experts.
Each member of our lawn care staff is certified in fertilization techniques and has several years of experience selecting and applying fertilizer at local homes. We encourage you to contact us as early in the spring as possible to sign up for our fertilization program. You're also welcome to get in touch with additional questions.