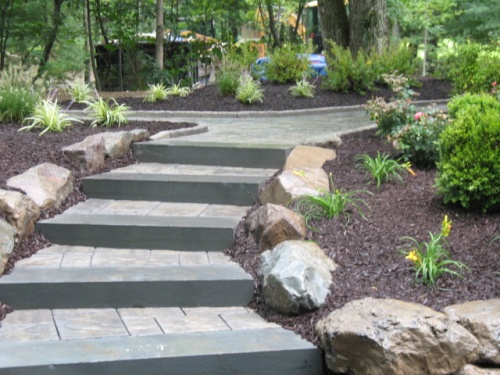 Increase the value of your home with professional landscape design and installation services.
If you're looking to increase the value of your home in Monroe County, Pennsylvania, you can't go wrong with residential landscaping. Not only does it add immediate value, but it's one of the few improvements you can make where the value appreciates instead of depreciates. That is because any plants, bushes, or trees you have installed will mature and become more valuable and attractive.
At Primrose Landscaping, we delight in making the dreams of our customers a reality. Our landscape designer uses the most up-to-date software to ensure that you end up with a beautiful, modern design. In addition to installing sod, shrubs, trees, and seed, you can combine your landscaping project with hardscaping for a spectacular visual effect. Here are just some of the landscape themes we offer:
Natural, formal, or Japanese gardens
Natural and woodland areas
Flowering, fragrant, or fruiting landscapes
Water gardens
Container planting so you can enjoy beautiful color all year long
Pool designs
If desired, we can create your landscaped areas using xeriscapes. These are native plants and materials that require less maintenance and water than other plants.
Planning a Successful Landscape Project
The first step involves our landscape team visiting your home to survey the area you want landscaped and take pictures. We ask many questions to get a good feel for your personal preferences and sense of style. Your input and our observations help us understand the overall effect you're going for with the landscape project. We notate the textures, colors, and types of materials used for the exterior of your home to ensure that we plan an appropriate landscape.
After evaluating your input and our own notes, we return a second time to present our proposed design. We encourage you to give your honest feedback and to request any desired changes at this meeting. Our installation crew waits until you have given final approval before they begin any work at your Monroe County property.
Primrose Landscaping offers free estimates on all landscape projects. Give us a call today at (570) 223-2580.